Let Rich Break the Ice
Many magicians work trade shows, so does Rich, but he offers something extra. A Guaranteed connection. He will connect you with the buyer you want to meet. GUARANTEED! 
NO CONNECTION? NO FEE!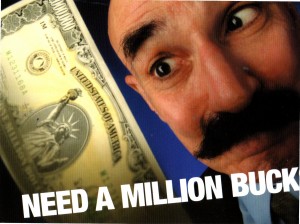 Here's a trick worth a million bucks
"No way." That's what Richard P. Noble, President of IBK Software, thought until he met Rich Marotta. As Noble tells it, "I'd been trying to meet an important client for a long time but had no success. Then I met Rich Marotta, THE BEST MAGICIAN in New York City. He told me he could put me together with any potential customer I wanted. Skeptical, I told him who I wanted to meet.
Five minutes later the client approached me. Somehow I had the missing piece to Rich's card trick. The client and I began talking about how this was possible. This initial meeting started a business relationship that has generated over one million dollars. So as far as I am concerned Rich Marotta's card trick was worth a million dollars.
Thanks, Rich."