The BAD News
They're boring
They're too long
They can offend
They were popular in the 70's on TV when Dean Martin did his celebrity roasts.
They became even more popular when The Friar's club started doing them of late.
Corporations also thought they would be fun for special occasions, employee accomplishments, retirement honoring a top salesman, or wrapping up a successful promotion.
Everyone likes to kid their colleagues and to make fun of someone who they are really fond of. So, in an endeavor to honor someone's accomplishments, a roast seems like the perfect way to praise and puncture at the same time.
But, good Intentions sometimes pave the way to chaos.
When organizations put the event together they often take the form of an 1940 Andy Hardy movie. Joe makes the curtains, Todd sells tickets and Alice sings and dances. A receipt for disaster without professional coordination.
Rich has coordinated and performed many Roasts.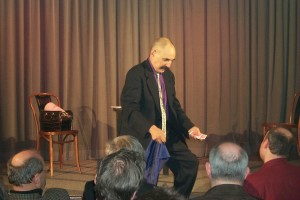 Here is his list of common mistakes:
1. The roasters all tell the same jokes.
Why wouldn't they. Most CEO's don't have professional joke writers on their payrolls.
2. What roasters believe is a joke winds up being a (not very) amusing story.
3. Usually the roasters turn a funny one liner into an unfunny monologue by going on too long.
4. Many get cold feet. This usually happens after they see their colleagues die the proverbial show biz death on the platform.
5. Then, there is the issue of latent hostility (not uncommon in the workplace).
Many times what is supposed to be a cute cut comes off as a mean spirited stab.
These are also some of the reasons event planners hire Rich Marotta to do the roasting. He's experienced, he's professional, he does it right.
If you'd like to roast someone yourself, download Rich's free booklet on "HOW TO ROAST A PERSON."