Sale!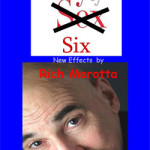 The Joy of Six
Six new commercial effects from Rich Marotta's professional repertoire.
1. Ambitious Photography: Magically print a card that was signed by a spectator,
2. Bar Pretzels: An impromptu linking of two pretzels. Street magic done in a fun environment. A bar.
3. Card Warp Restoration: When a wise guy asks you to restore the torn card you do it.
4. Matches Through Table: A variation on a classic. Only the matches go through the table not the match cover.
5. Quarter Through Glass Table: A visual penetration of a borrowed coin through a glass table.
6. Three Card Prediction. A spectator shuffles the deck and then selects three cards. They match the three cards placed on the table before the effect began. An easy to do stunner.
This DVD comes with all the special props and cards needed to do the effects.