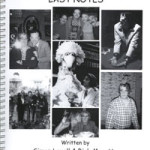 Derek Dingle's Last notes
These notes were written by Rich Marotta and Simon Lovell. Rich and Simon often worked with Derek and studied his performance.   The booklet is a collection of effects and explanations of the tricks that Derek actually performed.
Effects explained
The FB Pass. A complete explanation of Derek's fabulous pass.
Cigarette through Quarter.  With a fake funny explanation
Coins Across.  In the spectators hand.
Ring Flight. Performed without a jacket.
The collector's. One of the classic card effects.
The Fabulous Jumping Jacks Card Trick.  Fun and easy to do.
Sympathetic Cards
The whispering Queen
PLUS
Derek's thoughts on the Ambitious Card Trick
Derek's explanation on how to make gimmicked cards
Only 300 copies were printer. Each booklet is numbered and signed by the authors