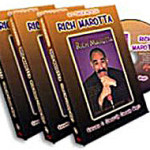 3 Volume DVD
Here is a three volume DVD that covers Close up, Stand up, and Stage. All of the effects in this three volme set are from Rich Marotta's professional act. All of the effects have been tested over 1000s of performances. See them performed live and then watch them throughly explained.
Close up Effects: Repeat Escape, Swindle, Nest of Boxes, Queen Soiree, Shot in the Pack, Matchic Trick, Visable Card to Wallet, Stabbed in the Pack.
Walk Around Effects:Fan See Card, Ring and Rope, A.P.E., RE-Rabbits, Gypsy Tie, Quarter on Forehead, Cards to Pocket, Card Rise, Card in Lemon , Quick Coin Trick.
Stage Effects: Paper Strip, Best Trick. Center Cut, Onear, Biz Cards to Pocket, Mugged, Cigarette, Card in Orange, Lasso Card Trick, McCombical Prediction.
28 EFFECTS