Sale!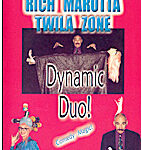 Dynamic Duo. The magic of Rich Marotta & Twila Zone
The Dynamic Duo DVD is about creating and performing a two person act.
How to structure effects to maximize entertainment.
How to create laughter.
All to often the magician's assistant is used as a prop. She brings things on and off stage.  She smiles at the audience to create misdirection.  Using your assistant this way is a waste of talent.  You have the opportunity to exploit the services of your assistant to maximize audience response and laughter.
If you are doing or contemplating doing a two person act this DVD is essential.